Since the beginning of the anime, the title "Pillar" has been constantly mentioned through so many episodes but only a few people truly understands what this title means. Well in this post we're gonna find out what this means and also make a ranking of the weakest to the strongest pillar.
If you are satisfied with this post, please leave a comment.
Who is a Pillar?
Pillar is a term used in Fire Force to describe individuals who have Adolla Burst. These individuals naturally have Adolla's Grace and can connect to Adolla through Adolla Link.
There is a reason why these individuals are called "Pillar." To incite the Great Cataclysm a combination of 8 Pillars are needed. So, you can say that Pillars are the supporting structure of the Great Cataclysm.
The First Great Cataclysm that occurred 250 years ago failed due to the lack of Pillars and also their strength. Hence, it is safe to say that the Great Cataclysm is not something that can happen easily until all Pillars are united with the Evangelist.
There are 8 pillars but only a few has been introduced in the anime so far so I'm gonna go through them now giving no spoilers.
6. Inca Katsugatani – Fifth Pillar(4th Generation Pyrokinetic)
Inca was an average school student before she became one of the White-Clads. Before joining the White-Clads was was popularly known as the Fire Thief due to her ability to see the trail of fire that was about to happen.
Two years ago, Inca acquired the ability to detect the pathway that heat will take via her sense of smell, leading to categorizing herself as a Fourth Generation. These abilities allowed her to know how fires will spread, explosions will trigger and how ignition abilities will act. She could even dodge attacks from Charon by tracking the thermal energy stored in his body and kicks from Shinra with ease. Two years later, Inca fully awakened her Ignition Ability and her Adolla Burst. In addition to being able to see the pathways of flames, she was able to trigger explosions by running her fingers across the air. The weakness of this attacks was that Inca cannot choose when these invisible pathways appear, meaning she is defenseless if they do not appear.
Adolla Burst
As the Fifth Pillar, Inca possessed both the Adolla Burst and the Adolla Link. Through the Adolla Link, Inca is able to sense the strong emotions of others who have experienced that Adolla and transmit them to other users of the Adolla. She was also able to predict when another user of the Adolla Burst is about to awaken.
5. Nataku Son – Sixth Pillar
Nataku Son was forcefully infected with the fire insect by Rekka. Rekka was a Fire Soldier but he was associated with the White-Clads. While experimenting on who among the many kids could tolerate the fire insect, Nataku Son was the only one to succeed.
After being bitten by a Bug, Nataku developed Third Generation abilities. Due to his age and lack of experience, he is currently unable to fully control his abilities. Using his Ignition Ability, he can ignite a claw from his right arm. As the Sixth Pillar, Nataku possesses the Adolla Burst and is able to forge an Adolla Link with others using emotions such as desperation and fear.
When his Adolla Burst fully manifests, Nataku becomes able to create floating radiation symbols out of fire, which are able to fire beams over great distances and cut through concrete. Nataku also begins to emit radioactive energy that is dangerous to everyone in his immediate area unless they have a resistance to fire. It is believed that Nataku's uncontrolled power could destroy the entire Tokyo Empire.
4. Sho Kusakabe – Third Pillar (4h Generation Pyrokinetic)
Sho is the younger brother of Shinra. While in his infant he unconsciously awakened his Adolla Burst and caused his mother to become a Demon Infernal. Later he was taken by the White-Clads where he was brainwashed and made the Commander of White-Clads.
Shō's Third Generation pyrokinetic ability allows him to manifest burning feathers. While he has yet to demonstrate this ability in combat he remains an extremely dangerous opponent.
He quickly and easily overwhelmed Faerie despite his ability countering Shō's time manipulation, easily bested his brother in their first fight and rematch, as well as managed to defeat Faerie twice despite his own immense power and advanced age.
Master Swordsman: Shō has showcased himself to be a masterful swordsman. Using his katana he can battle a trained assassin to a standstill. While trying to avoid killing his prey, Shō is able to fight using his sword's sheath to bludgeon them or consistently attack with the flat side of his blade. He was capable of of completely overpowering his Brother while using only the flat side of his blade, while his brother was an incredibly skilled pyrokinetic in his own right.
Immense Speed: Shō is an extremely quick combatant regardless of his abilities. Being able to contend with Shinra's Rapid-Man Kick and properly judge when to counter-attack his fast moving target. Even when his Fourth Generation abilities were perfectly countered by Faerie, Shō was able to effortlessly defeat him through sheer speed. Even without his ignition ability, he was not only capable of reacting to and fending off Joker's insanely fast strikes, but was also capable to following Shinra's movements while he was using Rapid. His already superhuman speed and reaction time is amplified to unimaginable levels by his Fourth Generation ability.
Like his brother, Shō has the rare Ignition Ability Adolla Burst and the Adolla Link. Through using his Adolla Link with the Evangelist, Shō is able to use the Fourth Generation ability called Severed Universe, which is capable of slowing the flow of time. Severed Universe gives the illusion of super speed and, using it in conjunction with his katana, Shō is capable of defeating Shinra, Arthur Boyle and Hibana with a single strike each. Severed Universe requires chilling the surrounding area to such a low temperature, it reduces the heat that causes the natural expansion of the universe, resulting in time passing more slowly for everything; the sole exception being Shō himself, who remains at normal speed.
3. Shinra Kusakabe – Fourth Pillar (3rd/4th Generation Pyrokinetic)
Shinra is the elder brother of Sho and the protagonist of the series. After his mother was killed in fire, Shinra was given the name Devil's Footprint.
Shinra has proven himself to be one of the strongest characters in Fire Force. Though a newcomer in the Special Fire Force, Shinra has posed a challenge to experienced members of the force and even defeated a Captain. Being a Fire Soldier, Shinra is experienced in rescuing people, and as such, was strong enough to carry four people out of a building before it exploded. While relying mostly on his Ignition Ability in combat, Shinra has exhibited skill in ordinary fighting, being able to pin an opponent to the ground and break their guard with a sturdy kick, as well as being capable of defending himself from ground-breaking attacks. Though break dancing is one of Shinra's hobbies, he also uses it in combat, creating unpredictable movements and kicks to attack with.
Shinra also possesses exceptional durability, endurance, and recovery time, being able to recover from brutal beatings and salvos of superhuman blows from characters like Charon and Leonard Burns while being able to continue fighting and withstand incredible levels of heat that would easily kill normal humans. His sturdy body can shield and repel powerful flames and withstand considerable levels of damage. During his attendance at the Special Fire Force Training Academy, Shinra had the highest marks for physical performance among all the other students.
Immense Durability: Shinra possesses superhuman-level Durability. He was capable of enduring multiple relentless attacks from His brother during their fight, and was still capable of fighting with remarkable efficiency, despite experiencing severe blood loss, internal bleeding, and several stab wounds and blunt force trauma. He still managed to display the same level or persistence and endurance while fighting Charon, while his opponent had the ability to absorb and transform kinetic energy into thermal energy, practically making him invulnerable. This impressive level of durability also allowed him to withstand attacks from the incredibly powerful Benimaru Shinmon, for several hours until collapsing from overheating. He was capable of tanking blows from Leonard Burns at maximum voltage, and even attacks and slashes from the incredibly powerful Kurono Yūichirō.
Shinra possesses exceptional eyesight, having been able to spot things that other members haven't been able to see at long distances. This was shown when Shinra identified the two White Robes that were sniping from multiple buildings away, as well as when he zoomed his vision in 2x more than normal to clearly spot an insect from far away.
Shinra was taught by Captain Benimaru how to utilize hand signs/seals in order to redirect and concentrate the energy in his body. This allows him to manipulate the characteristics of the flames he produces from his Ignition Ability. With Tora Hishigi, he can compress his flames into a focused jet, as opposed to how his flames normally spread out in every useless direction. This allows Shinra to use Rapid, giving him an exponential boost in speed and allowing him to fly farther and faster while using up less of his fire. Using Corna, Shinra's flames manifest in an explosive nature, allowing him to attack with a lot more force.
Having the Adolla Burst, Shinra can be temporarily empowered with the Adolla Grace through an Adolla Link to a person who originates from Adolla, or someone who is already graced. The connection with his Adolla Burst is strengthened according to the intensity of his desire.
Under Grace, Shinra can enter a state of light speed, causing his body to split into subatomic particles in the process. The particles then surpass the speed of light, allowing them to go a few seconds back in time to the point before Shinra's body broke apart. As a result, Shinra's body is re-materialized.
Doing so enables him to circumvent the laws of physics and allow him to travel at relativistic speeds without ending up dead. Under such state, Shinra could enter Shō's Severed Universe, see images of Tempe's past in his head, and accumulate enough strength to defeat the Demon Infernal in only one second.
By following the Newton's second law of motion, Shinra's mass begins to increase as he moves at the speed of light, however, since he can break his body apart when moving at the maximum speed of the universe, his mass doesn't affect his speed. Since force is mass times acceleration, the faster he goes the stronger the impact of his attacks, and since his mass becomes infinite, the impact of his strikes allow him to commit astonishing feats. These feats include instantly killing a titanic infernal and completely destroy Tempe in less than a second, causing a massive explosion both times comparable to a nuclear device. When activating Light Speed for the first time, he could even trade blows with his incredibly powerful brother, and completely negate his time manipulation.
2. Haumea -Second Pillar (3rd Generation Pyrokinetic)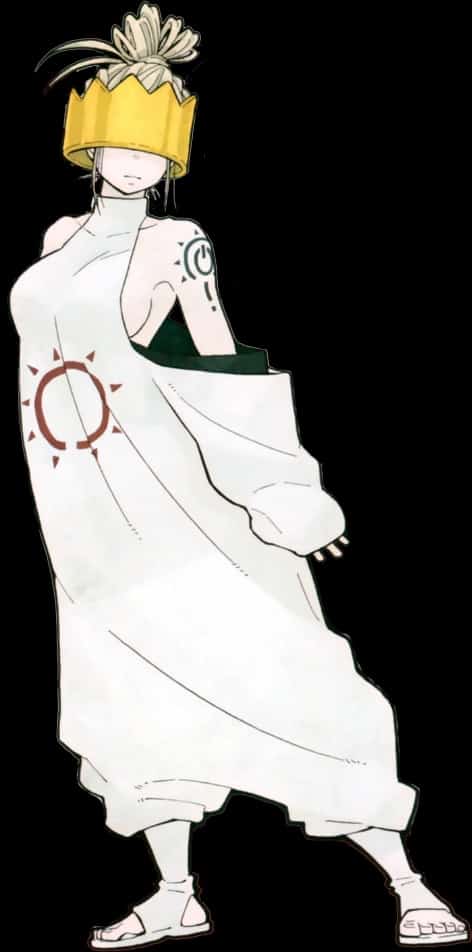 Haumea does not have any special fighting capability but, she has a terrifying power that is a headache for most people. Haumea is able to alter thought of anyone and can also read minds of people.
Haumea has adapted to the Spontaneous Human Combustion and awakened her Ignition Ability as a Third Generation. She utilizes her Ignition Ability as an Electric Shock User (電撃使う, Dengeki Tsukai). She can use these electric shocks to destroy electrical systems, and use electrical signals to manipulate people's nerves and control them, turning her opponents or random people into her puppets. Haumea is able to manipulate targets more precisely by controlling a person's endorphins and neurotransmitters to influence their behaviors. She can also use these electrical signals to communicate with people from a distance, a technique she calls Radiohead, making her a valuable asset in missions where she is separated from her team as she is able to distribute information without being next to her accomplices. She can also interpret the electrical signals in the brains of others to read their thoughts and feelings using a technique she calls Talking Head. Unfortunately this ability is constantly active, causing her to consistently hear the thoughts and intentions of others close and far from her.
She can swing around using electricity and is also able to land on the ground from a huge distance without doing harm to herself and attach herself to metal pipes, which is speculated by Arthur to the result of electric magnetism. The downside is that her abilities is negated against plasma. When she tried to brainwashed Arthur whose ignition ability is plasma, her ability short circuited.
As the Second Pillar, Haumea also possesses Adolla Burst. She has demonstrated the ability to observe events normal humans cannot, including a battle happening at miraculous speeds and events happening within Adolla hallucinations. She also seems to be able to control Demon Infernals to a degree. Both of these abilities appear to require a great amount of concentration. Haumea is also able to undergo a ritual that summons a Doppelgänger Demon, though this summoning places her under great strain and is extremely painful.
1. Amaterasu – First Pillar
Though we have never seen Amaterasu fight of battle anyone, she is powerful enough to keep the Amaterasu Power Plant active 24×7. She was also able to manipulate Shinra and Inca when they entered Adolla Link.
As the First Pillar, Amaterasu most likely possesses an Ignition Ability and an Adolla Burst. Shinra Kusakabe suspects and later confirms that she is indeed the power source of the Amaterasu that powers the entirety of the Tokyo Empire, further alluding to her immense power. Like the Woman in Black within the Tabernacle, she is able to appear before other Adolla Burst users through the Adolla Link.